I receive emails regularly from design students and clients asking me about what it means to be a 'sustainable graphic designer'.
A lot of people ask me about the kinds of practices I've put in place that allow me to claim this title. So I thought I'd put together a post to help explain how I've incorporated sustainable practice into my design business.
I like to separate my 'sustainable practice' into two areas:
General business practice – the way I run my business and my overarching value-based practices
Project-based practices – specific considerations that can be made and strategies that can be followed while working on a design project
For the sake of this article, I wanted to summarise the first item, general business practice. You can learn about the more in-depth project-based practices in my available eCourse (which will be launched VERY SOON), as well as a much more comprehensive look into general business practice. Following is a more summarised version.
There are 4 primary areas that I focus on to embed sustainability into my business:
1. Giving back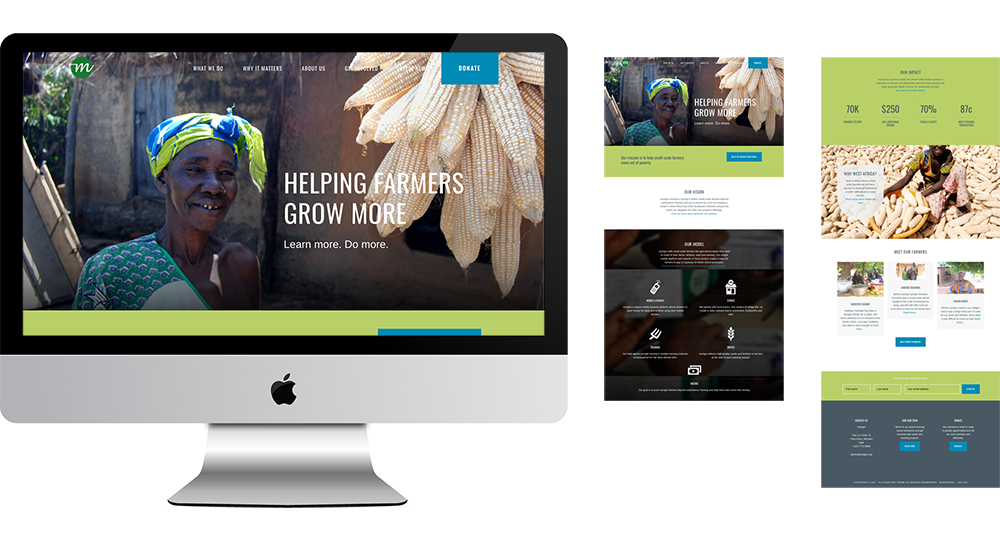 The first practice of a sustainable graphic design business is to give back. Whether it be in the form of time or money, it doesn't matter. But I believe this is an essential part of running a sustainable design business!
My business runs on a regular for-profit business model, for the time being. But it is, in part, also a kind of social enterprise in that I attempt to give away 10% of my time each year for free, to projects that I care about.
Some of the projects I've worked on in this way include: designing a website for a microfinance organisation in Africa, designing T-Shirts for a cause, designing marketing collateral for a community eco-centre, etc. You'll find most sustainable graphic designers and graphic design studios will do some pro-bono work in some form or another.
2. My studio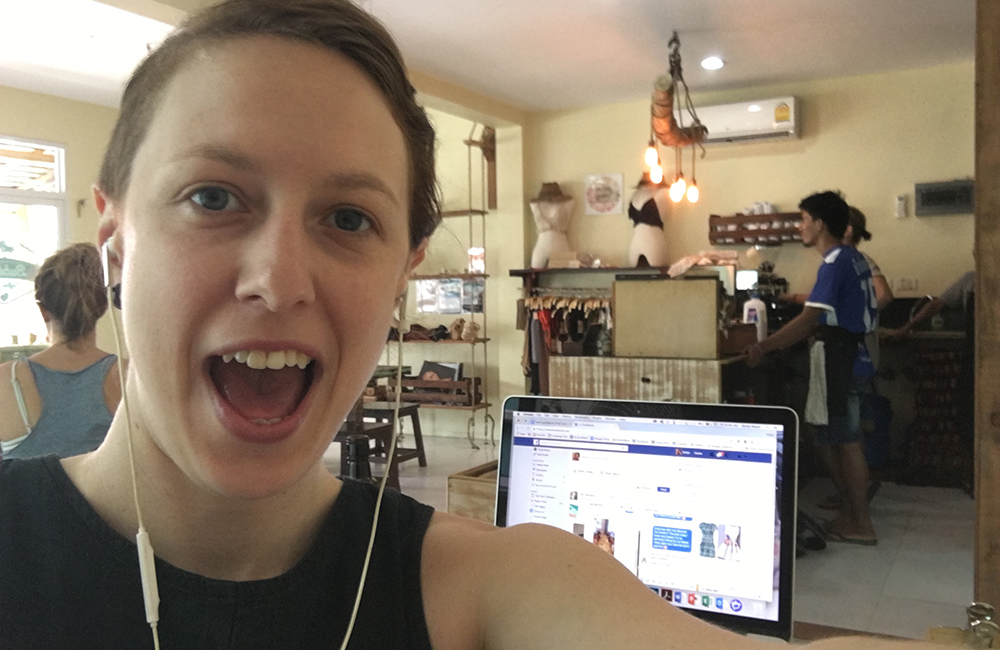 The second practice is ensuring you have a 'green' studio environment.
For the most part, I don't have a 'studio'. I work mostly as a digital nomad (collaborating on projects with people remotely all around the world) and thus, I work from various locations throughout the year (cafes, co-working spaces and sometimes just a hotel room), depending on where I am.
When I'm at 'home-base' in Melbourne I choose to work from a co-working space that has a good environmental and sustainability policy, such as Electron Workshop (where I've spent the past 12 months). They are a certified B Corp and have energy efficient systems in place such as timers on the lights. They also use only eco cleaning products and recycled supplies – to name just a few of the reasons why they are green.
But if you do run your own studio or work in an established design agency, there are a range of things you can do to ensure your studio is green. Everything from where you get your energy from, to using Keep Cups and cycling to work. There is a much more comprehensive list available in my eCourse.
You might be aware that it doesn't seem very green of me to be travelling around so much, and you can see how I deal with this below when I discuss my emissions. In general, when I travel I'm very conscious of having a very low footprint and with care and consideration for all the places I visit.
3. My policy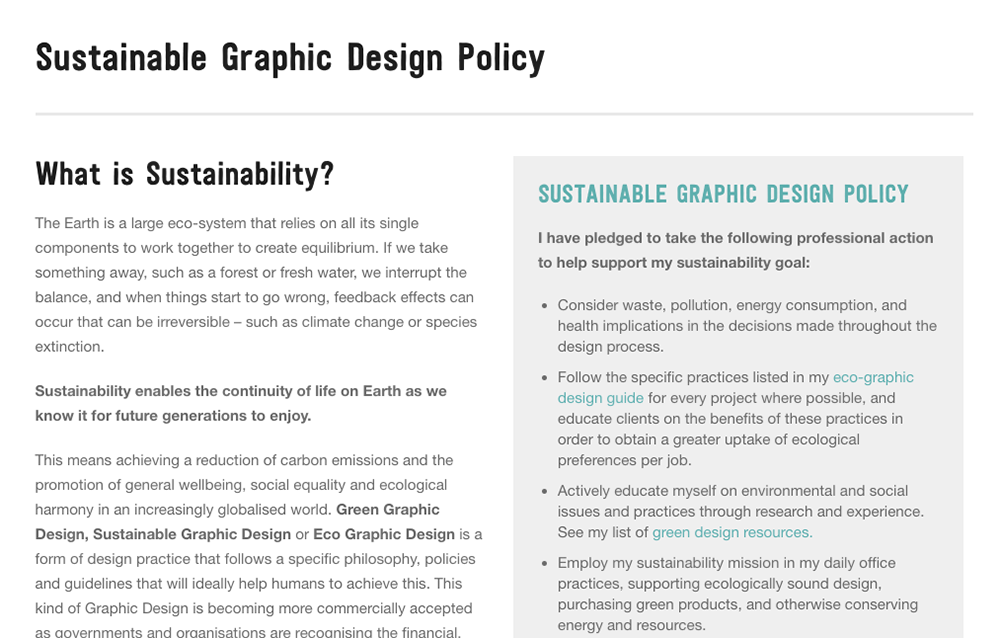 A sustainable graphic design studio should have a pretty solid environmental policy or sustainability policy. You can see mine on my website here.
4. My emissions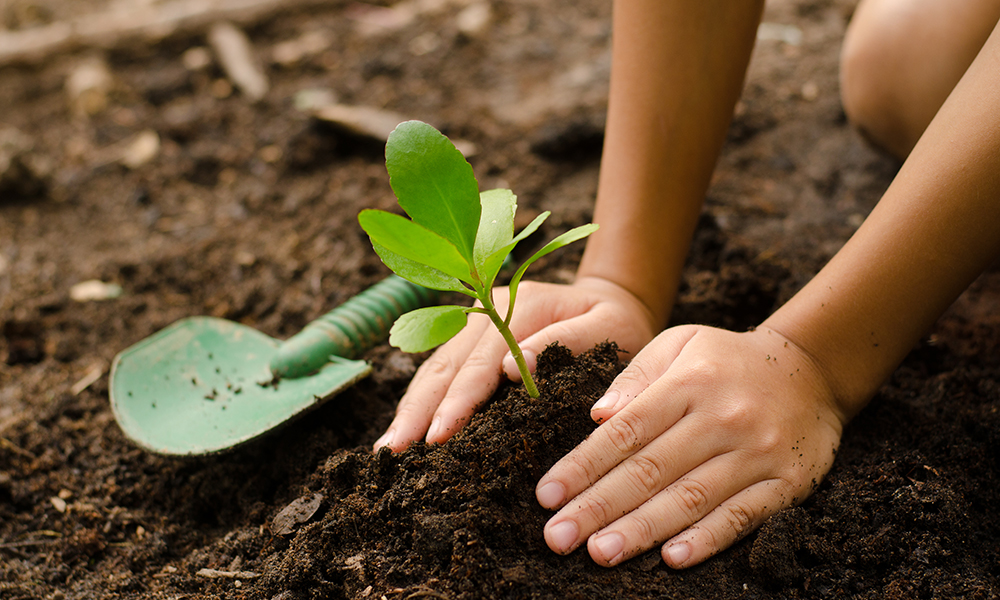 Sustainable graphic designers should all become carbon neutral. No excuses. It only costs about the price of a nice outfit to offset your CO2 emissions for an entire year. See my post on 1MillionWomen about the cost of becoming carbon neutral.
Each year I measure my emissions and then purchase carbon credits in the form of tree planting from Fifteen Trees. Of course, this is how I offset all of the emissions from my travel as well as my day-to-day activities.
There you have it! General business practices that ensure you are embedding sustainability into your design practice. If you'd like to know more, there's a LOT more information in my eCourse – Change the World as a Sustainable Graphic Designer.