You can make this year's annual report a 'green annual report' by choosing environmentally friendly design techniques and production processes that save precious resources and reduce greenhouse gas emissions.
In this article, we're going to share with you just how easy it is to save energy, trees, and water, and also reduce waste with a green annual report.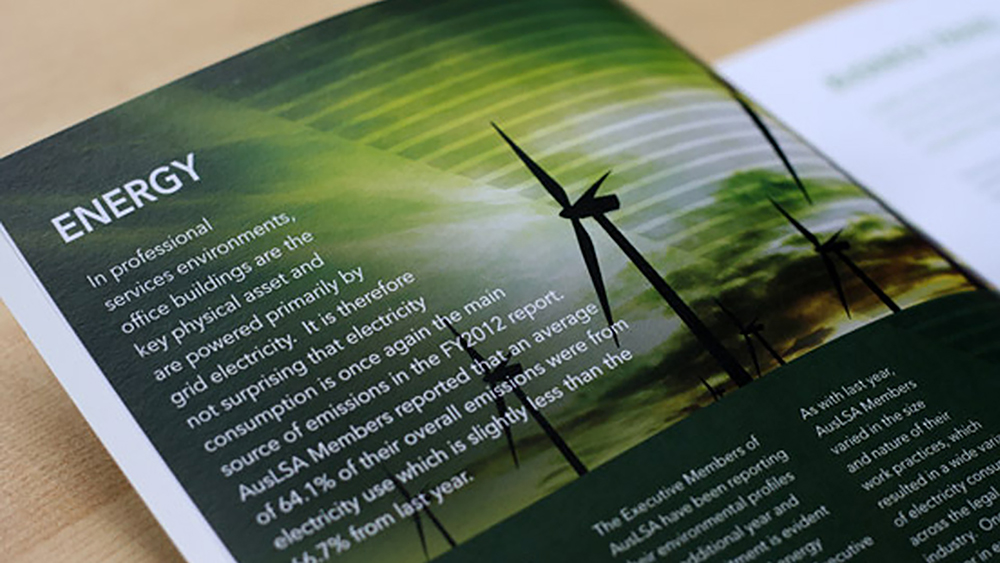 GREEN HOT TIP #1: as a general rule: more ink = more energy intensive; less ink = less resources used.
Annual report design – ink and layout tips
Choose/create a design with less ink coverage (e.g. the use of block colours) – the more ink on the page; the more energy-intensive recycling can be as paper needs to be de-inked during the recycling process.
Consider using low-ink sustainable fonts especially for large areas of body text – there are a few fonts available for purchase that use thin lines or tiny dots (instead of weighted lines). Less ink used in printing the font means more eco-friendly. Check out Ryman Eco as an example of a beautiful sustainable display font. There is also a wonderful service called Ecofont that converts your regular fonts into a sustainable version for printing. Pretty cool!
Avoid full page coloured images – a great annual report design will have a perfect mix of information, data, graphics and images. Without compromising the design integrity of an annual report; consider opting out of full-page images altogether and if that's not possible, simply reduce the images to a half page size (usually this will be just as effective in breaking up the text and data/other elements).
Avoid page bleeds where possible – printing with bleeds creates offcuts and offcuts need to be de-inked (as above), which adds an extra production process that doesn't need to happen. If bleeds are necessary, always use the minimum = 3mm.
Design the report in black and white to reduce amount of ink needed – this may not possible since you're likely to be using a brand guidelines document that stipulates the use of a particular colour scheme. So instead try to utilise the brand colours on a white background (as a general rule).
Create a second version of annual report as a black and white PDF – this can used for as the printable version for clients & customers (or anyone else) who come to your/the company's website looking for the full report or any relevant sections of it.
Choose a plant-based or veggie-based ink with 0-5% VOCs (volatile organic compounds) – instead of using harmful petroleum-based inks that typically contain 30-35% VOCs.
GREEN HOT TIP #2: don't be afraid to chat to your printer

Your printing company (whether they're sustainable or not) should have formal environmental policies on energy reduction, waste reduction and recycling. Check that their sustainability initiatives are legitimate. If they are the real deal, they should quite proud and willing to answer your questions around this transparently.
Annual report design – paper tips
Choose paper that is:
Made from non-wood sources – 100% PCW (post-consumer waste) recycled fibre is the best choice, but at least 30% recycled and 70% virgin fibre (derived from newly pulped trees and other plants) as a bare minimum.
Uncoated and PCF (processed chlorine free) – in some cases your (client's) company might already have an in-house printer meaning you can't opt to use a certified green printing company. All printers nowadays should at the very least have an uncoated, recycled blend paper on offer (if they don't maybe look into changing printers!).
Ancient Forest Friendly or certified FSC (Forest Stewardship Council) – this just means the paper comes from a responsibly-managed forest. For example, Ancient Forest Friendly paper is 100% recycled or straw paper, free of ancient or endangered forest fibre and whitened without chlorine.
Sourced and manufactured using renewable energy, or at least is offset by legitimate renewable energy credit programs.
WWF (World Wildlife Fund) have a great resource where you can easily check your paper for sustainability value.
GREEN HOT TIP #3: sustainable proof reading

Ask your printer to use make-readies, overruns, or other scrap paper as the base stock when printing out proofs of the annual report. Or better yet – proof on screen!
Annual report design – printer tips
 Choose a printer that is:
Certified sustainable/green/eco-friendly – by a legitimate third-party environmental group.
Local – to reduce transport mileage (and emissions), a printer within 100 miles from where the piece is going to be distributed at the end is best.
Powered by a renewable energy source – again if they're not carbon neutral, check they at least carbon offset.
These are just some of our tips on ways you can green your annual report or sustainability report. You don't have to do everything but even a few of these considerations when planning a large print run can make a huge difference!
How much should an annual report cost?
Try the cost calculator on our annual report design service page for a price estimate.