"We all know climate change, deforestation and pollution are threatening the environment.  But most people just don't feel it's possible to do anything to help." – 8 Billion Trees website
Ethical Design Co. is a carbon neutral graphic design business with a model built around planet before profit. What does it mean to be completely carbon neutral? It's very simple and you can do it too. Here's how. 
Climate change fatigue
I think we can all agree by now that human-caused global warming, deforestation and pollution (especially plastic pollution) are urgent global environmental threats. 
In Australia we are suffering some of the worst extreme weather conditions in history. Water scarcity and extreme droughts, more frequent and intense bushfires, severe flooding, rising sea temperatures and rapid acidification of the oceans, to name a few of our increasing climate fears in recent times.
As the destruction of our natural ecosystems accelerates at an alarming speed, it's easy to get lost in all of this scary climate change rhetoric and feel a sense of helplessness towards what seems an insurmountable task…
At Ethical Design Co. we continue to push our sustainable graphic design agenda but sometimes it can be hard to find the motivation to keep fighting the good fight. 
The good news is that there IS something really easy that we can all do to help and it DOES makes a huge difference. Tree planting! It's a great, tangible and affordable thing that allows you to offset your personal and/or business greenhouse gas emissions.
How does it work for us?
At the start of July (EOFY), we calculate our emissions based on the most appropriate example of the average Australian household's daily use of energy/power (at the moment the average Australian has an annual lifestyle carbon footprint of 15,000 kg). We include everything from our air travel and everyday transport to daily use of our laptops, monitors and household and office electrical appliances (noting that our electricity supply is already from completely renewable sources). 
Once we have an idea of our combined carbon footprint for the year we then work out how many trees will need to be planted in order to offset our emissions. Over its lifetime, a tree collects 268kg of carbon so it's a simple equation to get to our final number of trees.
We then purchase the trees via an online tree planting service, outlined in the next section. These trees, once planted, will sequester enough carbon over their lifetime to offset the carbon emissions of the given activities.
Who do we plant with?
Fifteen Trees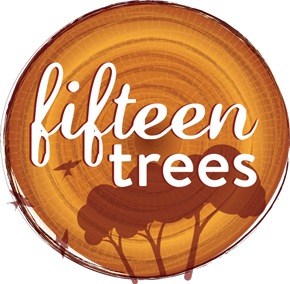 Fifteen Trees is a tree planting initiative founded in 2009 and managed by a small, kick ass all-female team of staff. With the support of several community groups and native nurseries, the company has helped plant 132,880 trees in all states across Australia and New Zealand over the last 10 years. 
Businesses or individuals can choose to plant 15, 30 or 45 trees for AU$72.00 per 15 trees or if you become a monthly or annual member, Fifteen Trees will plant 60 trees on your behalf every year for just $288.00 or $260.00 respectively. 
The many Australians who spoil themselves with a daily latte will spend around $1,600.00 per year just on takeaway coffees! It really puts this into perspective. The annual membership works out to be just $4.80/tree which is really quite affordable for a small business. Larger companies with more capital really don't have much of an excuse, in our opinion. Any successful company should be able to afford $260.00 per staff member, per year, as part of their contract.
Sonja and I recently joined the membership program and were excited to receive our Friends of Fifteen Trees annual membership cards in the mail. Check out more on their memberships here.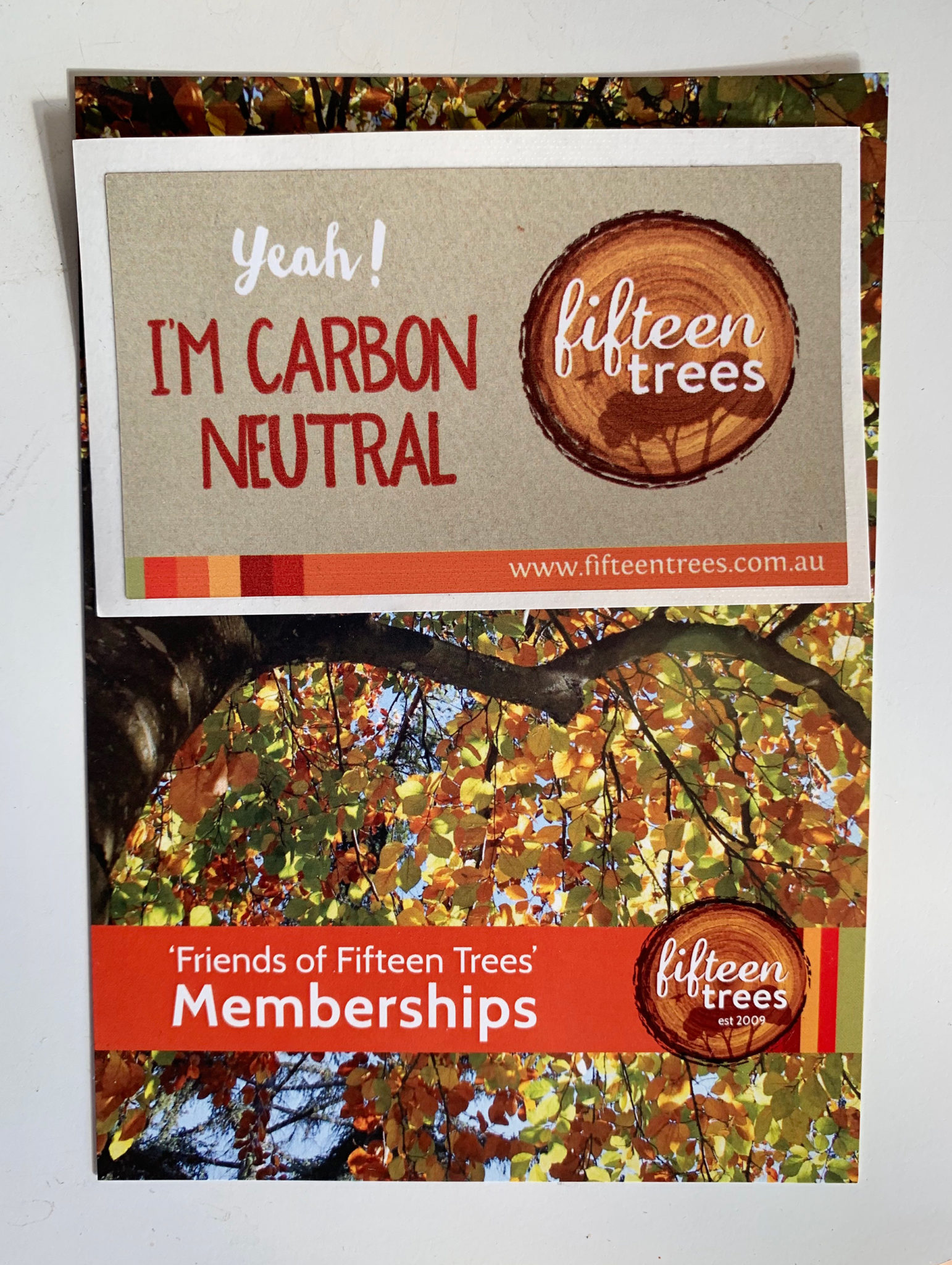 What are the other options? 
The TreeProject 

TreeProject (est. 1989) is another great local example in this space. TreeProject are a non-profit (charitable), volunteer-based organisation that have been around for almost 30 years! They are leaders in sustainable re-vegetation and pride themselves on providing low cost indigenous seedlings to landholders. So far TreeProject volunteers have planted more than a massive two million trees across Victoria. You can support them by donating or becoming a member. 
"We depend on balanced ecosystems for photosynthesis, carbon sequestration, pest prevention, drought mitigation, soil enrichment and flood regulation. When these ecosystems struggle, we are all in trouble." – The TreeProject website
8 Billion Trees 

There are many tree-planting groups all over the world, but for our international readers we recommend 8 Billion Trees. 8 Billion Trees are a really awesome global initiative who are 'changing the world one tree at a time'. 
You can subscribe as a monthly member for just US$20.00, which buys you at least 10 trees per month. They also have cool sustainable bracelets made from recycled materials on their website that you can purchase for around the same price. For every item sold they will plant 10 trees.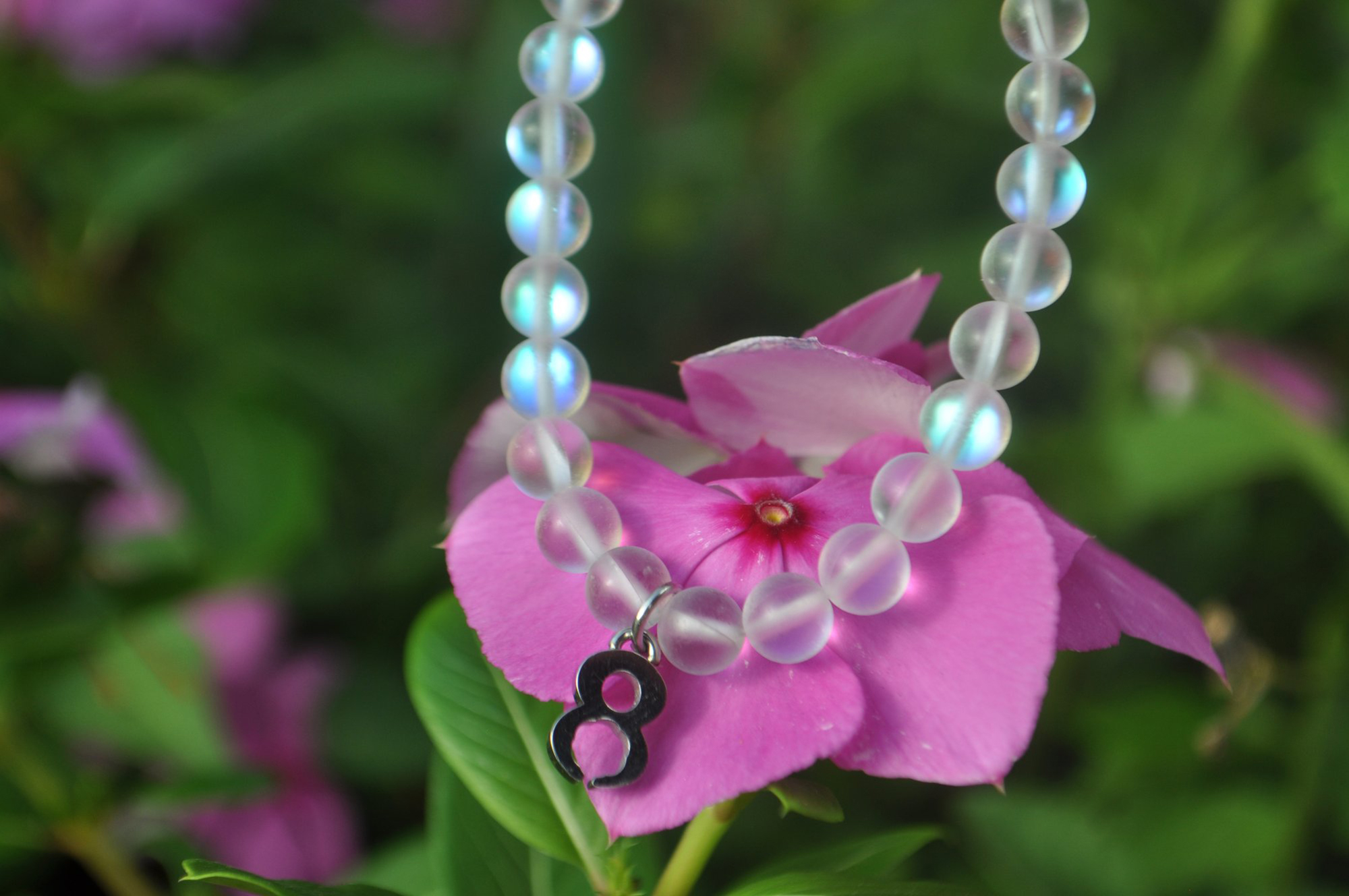 What to look for
From the Fifteen Trees website: A good tree planting company will ensure:
Permanency.

Your trees will be well planted and protected. They are planted for the long term.

Additional Planting.

Your trees are planted in addition to what was going to be planted.

Transparency.

This will be achieved via the website where you will be able to view your trees and read some of the stories behind the groups who have planted your trees.

Credibility.

Those who plant your trees are connected with established community groups such as schools and universities, Landcare groups or environmental groups.
A few other ideas for tackling climate change head on in your business
In the office:
Go paperless (preferably) and embrace the cloud – be mindful when choosing to send hard copies to print. 

Embrace renewable energy – we use

PowerShop

for our energy supply, they are awesome!

Introduce a zero waste policy in the office – bidding farewell to the wasteful solo sugar sachets and single use plastic cutlery, missed by no one.

Ask employees to turn off electronics, lighting and heating every evening.

Buy more efficient electronics

and so on…
In practice: 
Give back some of your time or profits to support causes or projects you believe in (or create staff initiatives) – see skills-based volunteering platforms such as

Catchafire

.

Outreaching/sourcing work from clients and customers that share your values and goals.

Support the UN sustainable development goals.

Purchase ethical goods and services and support other sustainable businesses and suppliers (e.g. sustainable printing for your business collateral) – use online green directory websites to source suppliers. 
Even if you aren't ready or able to become completely carbon neutral, why not plant just a few trees to get started and work on purchasing clean energy and some other green supplies this year? 
You will be surprised at how much of a difference we can make if everyone, collectively, just takes a few more small steps in the right direction.