My personal area of study was International Community Development, so naturally I feel passionate about encouraging and inspiring others to continue to give back to the community where possible.
Working in a sustainable graphic design studio, I wanted to share what I've learned about this important question that most designers ask themselves at some time or another.
When should I work for free?
Designers who are hoping to use their unique skills and their craft to make a difference in the world should understand the ins and outs of pro bono work so they don't become disappointed or disheartened.
"I think even the most successful designer can afford to give one-tenth of his (/her) time. It is unimportant what the mechanics of the situation are: four hours out of every forty, one working day out of every ten, or ideally, every tenth year, to be spent as a sort of sabbatical, designing for many instead of designing for money."
-Victor Papanek, Design for the Real World: Human Ecology and Social Change, 1985.
What sort of pro bono work should a graphic designer offer?
There are various business models designers can adopt to accommodate for some amount of time spent doing pro bono work (which I'll explore in a moment). Whether you choose to do a couple of small projects per year or 1 big one, it's really about finding the right balance for you.
For instance, if you're buried under other design work and are short on time you could start small with one of the following:
Design some t-shirts for a fun run or fundraising walk in your local community.
Design some flyers or a poster for a community initiative in your local area or an organisation you support.
Design social media banners to help spruce up an organisation's Facebook and Twitter pages.
These are all small jobs that won't take up a large amount of your time and can be done on the weekend when you aren't working on paid jobs.
If you want to get more serious and dedicate a little more time and use the 10% rule (or more!), the options are limitless. Campaign branding packages, websites, anything that will help support a cause that you care about.
What to be careful of when offering pro bono work
In our work (and just in life in general), we have found that people tend to value things based on how much they are paying for them. It's a sad but true reality that can probably be attributed to an inherent capitalist mindset.
One very important piece of advice is to consider alternative options to giving your time away completely free. The individual or organisation receiving the project needs to know that you're a highly-skilled professional and you mean business, so they should take you and your work seriously.
It's good to show the recipient how much value you are providing, even if that's not through a financial transaction.
4 ways to do this include:
Ask for payment in the form of marketing or advertising (sponsorship): for example, you may offer to design a website in exchange for becoming a sponsor or partner to your client's organisation. This helps provide you with exposure of your own brand.
Skill swapping: consider doing an exchange of skills for the work. For example, you may create a poster for a special community event and in return the client might offer you some free tickets to the event. Or depending on what kind or service or product your client is selling you might receive a voucher of sorts or a dinner for 2. You never know until you ask!
Quote on the job as normal: even if you decide to do the entire job for free, provide a detailed account of how much the work is worth so they can put a commercial value on it. This helps to put your time and effort into perspective in a way that encourages the client to take the project a little bit more seriously.
Give a discount: instead of doing it completely free we do recommend giving a decent discount off the normal price (eg: 50% or 75% off). In our experience if the client is still paying a little bit of money it will help them be a little bit more involved and invested in the project.
Resources for finding pro bono work
If you're looking for this kind of work there are plenty of resources online:
Catchafire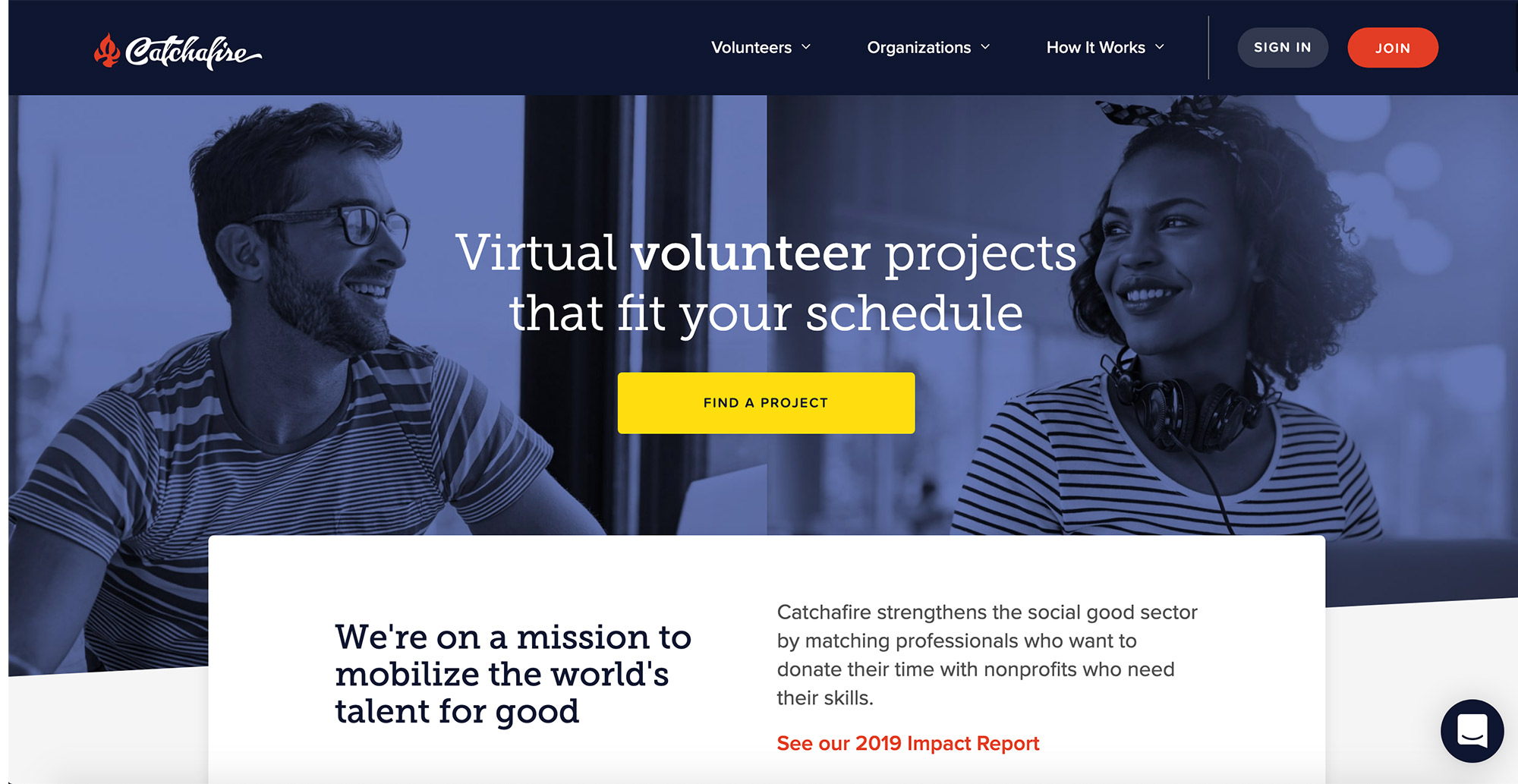 Catchafire is an excellent global site that matches highly-skilled volunteers with social/environmental orgs all over the world. As a member-volunteer you can scroll through all the projects (Find a Project) that have been posted on Catchafire's site and pick the right one for you.
You then quote on the job as you normally would, which is a great way to present your value to the client, as previously mentioned.
For quality assurance, Catchafire has a structured interview and matching process which means that all candidates are screened in the same way they would be during a regular hire process for a paid job. Once a suitable match is made, you can get to work. Easy as.
Moving Worlds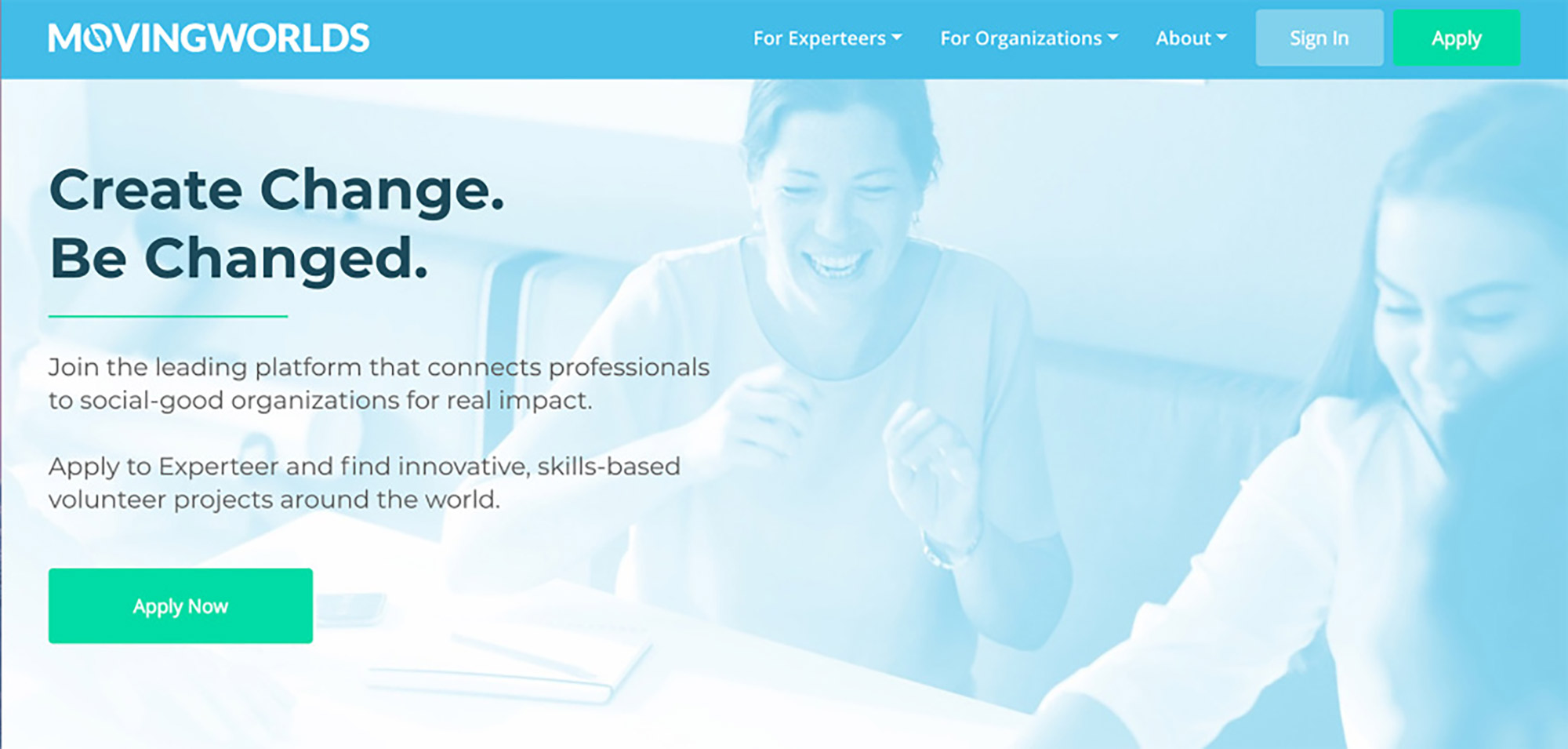 MovingWorlds is another leading platform connecting skills-based volunteers to social good organisations. They will help you match your skills to suitable projects around the world and in exchange you will gain invaluable international experience – anywhere, anytime, and for any length of time. The options are endless!
Pro Bono Australia
If you're a designer based here in Australia, Pro Bono Australia is Australia's leading site for news, jobs, events and funding resources in the not-for-profit and charity sector. Definitely worth a look if you're passionate about giving back.
Our business model of giving back at Ethical Design Co.
We aim to give 10% of our time (like Papanek suggests) in the form of pro bono work every year to causes and organisations align with our values, or that we feel passionate about helping.
We also offer a 15% discount on any type of project for clients with DGR (deductible gift recipient) or not-for-profit status.
You can find out more about the way we work and a lot more on socially conscious design in Sonja's online course that launched recently – Change the World as a Sustainable Graphic Designer.
Give back as much as you can! It's much more rewarding and fulfilling to wake up in the morning knowing you're making a difference by using your skills for good.