Throughout the past decade, the word "disruption" has been exhausted as a buzzword (almost like
sustainability
). There's circulating talk that this term needs to be banned, yet
disruption
has applied itself to a few practices and industries, especially design. But why does it matter?
Disruptive design is important because it's an intentional approach through design that creates positive social change and interventions within a stagnant, pre-existing system.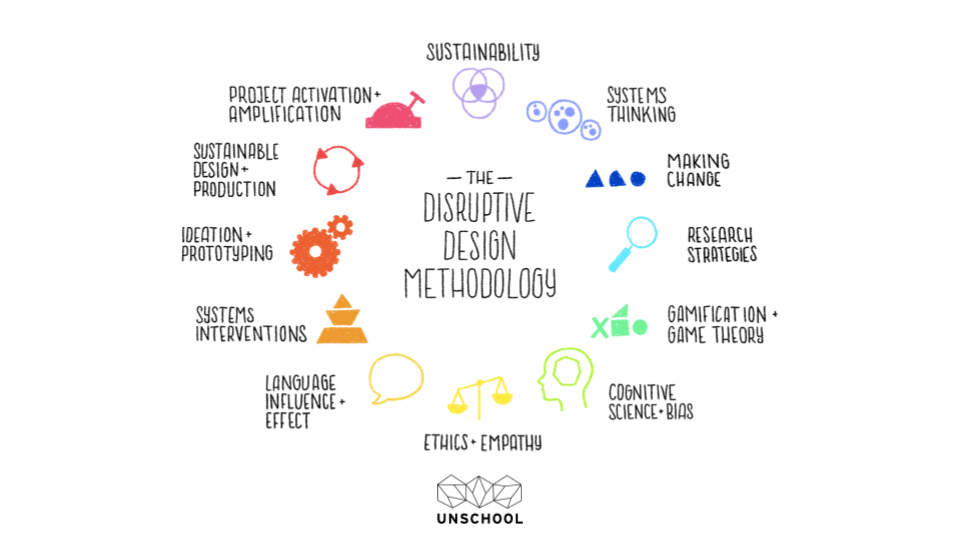 Disruptive design is about BRAVE thinking. It's about being INTENTIONAL with how we direct our creative approaches to be part of actual changemaking. It's tackling social and environmental concerns that exist in our world with creative SOLUTIONS.
Leyla Acaroglu, one of the pioneers of this practice and an award-winning Australian designer and sustainability innovator, believes anyone can implement disruptive design (not just designers, engineers, entrepreneurs, etc.). 
In her 2020 article, 'What is Disruptive Design', Leyla sums up the basic prerequisites for practising the disruptive design method:
Give a shit about the future of this planet

Have a burning desire to participate in designing solutions that address hyper-local to global issues that affect humanity and the sustainability of the life-support systems that sustain the planet

Be open to sharing, exchange, and collaboration

Be a pioneer who is willing to fail, discover, curiously explore, and change a core part of what they do in the world

See problems as opportunities
It is through this changemaking lens we can see how disruptive design works in harmony with the circular economy and product-service-systems (PSS) that promote collaborative consumption (for example, car and bicycle sharing) and regenerative business models (ethical brands such as Patagonia and Timberland come to mind), to make the world a better place for future generations. By definition, disruptive design challenges the norm and changes attitudes, and in many cases it encourages sustainable and/or ethical practices that protect the environment and promote doing 'good' business.
"When we talk about Disruptive Design, we are talking about creating intentionally disruptive creative interventions that are functionally imbued with the objective of challenging the status quo and making positive change." – Leyla Acaroglu, UnSchool
To keep you inspired, our team at EDCo. have collected some disruptive works that have had a global impact.
Homeless Sculpture, Crisis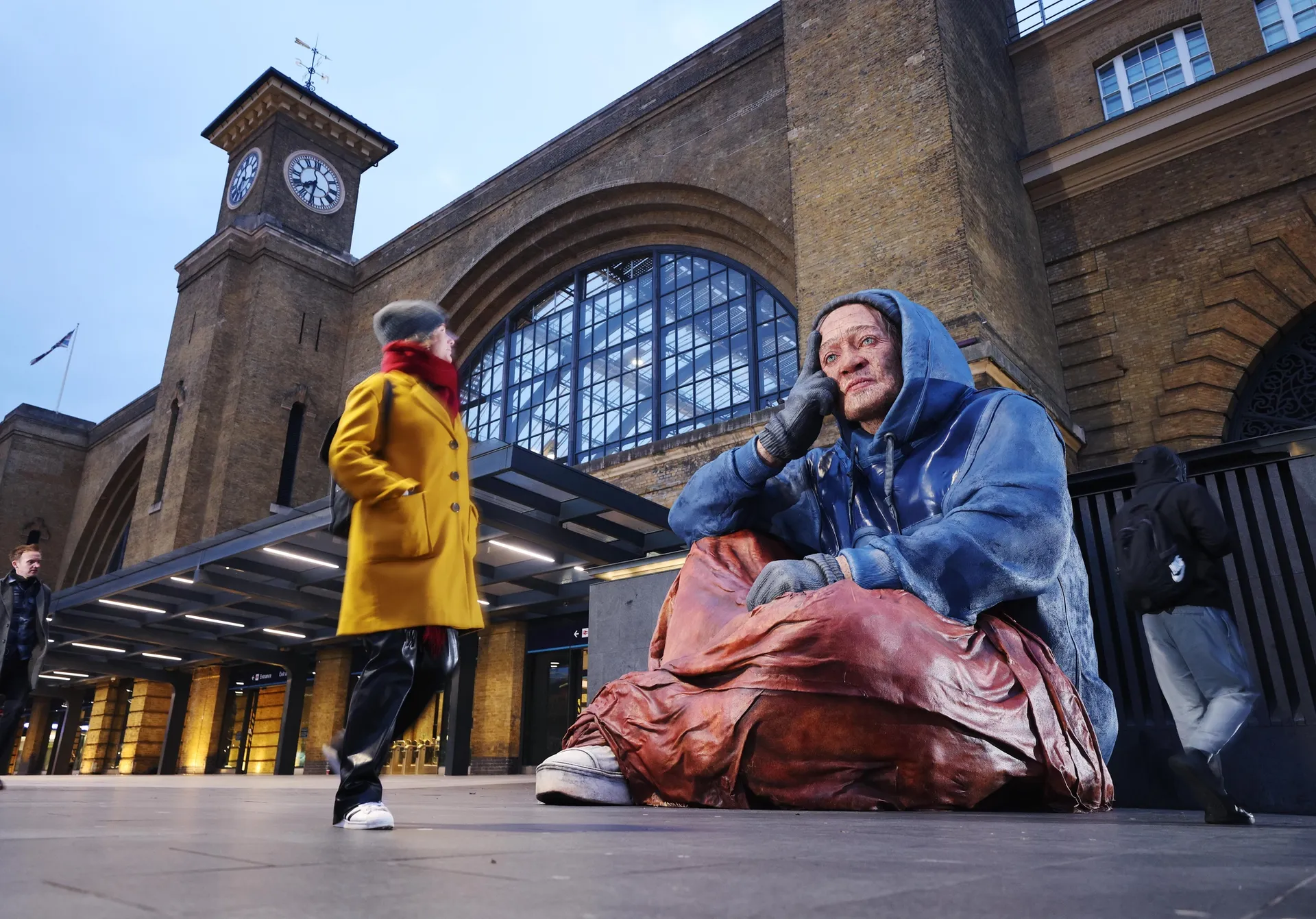 The impressive sculpture, Alex, sits over four metres tall outside King's Cross Station in London with a clear statement to the public: "You can't ignore homelessness".
Having expressive facial features that's unmistakably human to a passing crowd, Alex is a testament to the hundreds of thousands of those experiencing homelessness as the cost-of-living increases. Commissioned by Crisis, the charity wanted to make homelessness "impossible to ignore" and reinforce the humanity of those living on the streets.
"Every day at Crisis we are confronted with the impact homelessness has on people's lives and every day we see that it doesn't have to be this way. But we know homelessness is an issue people find overwhelming, and while many want to see change, too many of us continue to turn away." – Catherine Ashford, Crisis Head of Marketing & Communications
It's a work of art. Alex's unique features were created via AI mapping using 17 profiles of real people facing homelessness and that have been supported by Crisis. Next to Alex, there are multiple QR codes where the public can donate to the charity.
DO Black, Doconomy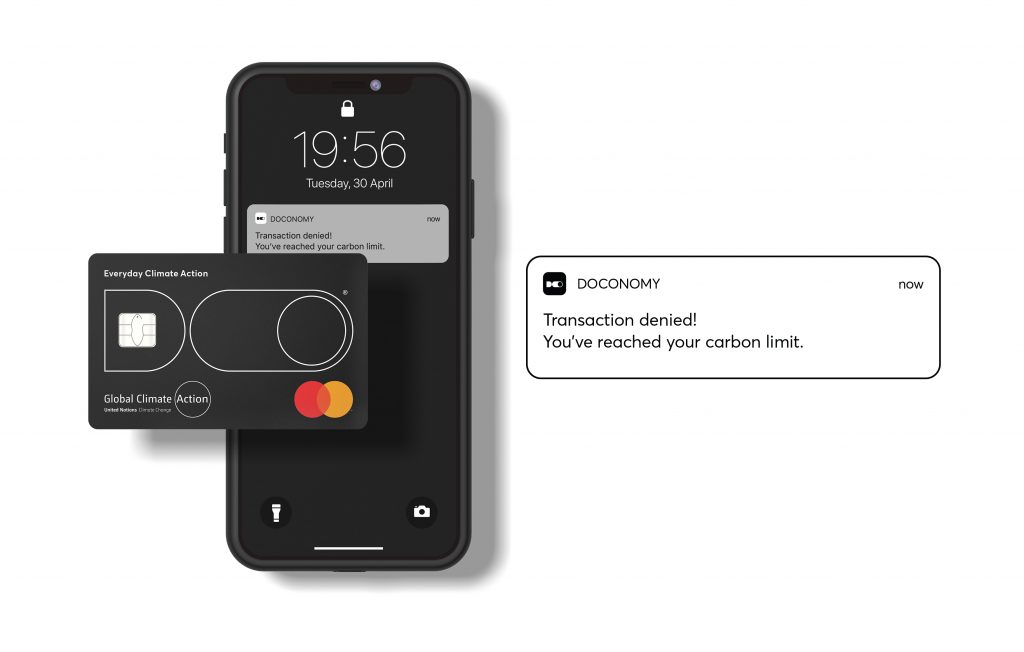 Swedish fin-tech company Doconomy has launched DO Black – the first ever credit card that counts your carbon footprint. It's made from bio-sourced material and printed with Air Ink, an ink created from recycled air pollution particles such as soot from a car's exhaust, house chimneys and generators. By initiating day-to-day climate action, DO's mobile banking service is an innovative tool that encourages users to protect our planet.
DO Black stops buyers from overspending. Instead of being based on funds, the credit available on the card is focused on CO2 emissions caused by the user's consumption. Through their credit card, users can track their carbon footprint per purchase and learn how to compensate its climate impact.
Users are also able to place a limit on their climate impact funds through every transaction. "DO credits" are collected, where owners can receive refunds from connected stores based on their item's carbon footprint. The refunds are then directed to either sustainable funds or UN-certified carbon-offset projects. Through DO, users are able to reduce their climate impact by 50% in 2030.
"We all need to come to terms with the urgency of the situation and rapidly move towards more responsible consumption. With DO Black there are no more excuses." – Nathalie Green, Doconomy CEO
Mate Act Now: A protest for the digital generation, Chris Flack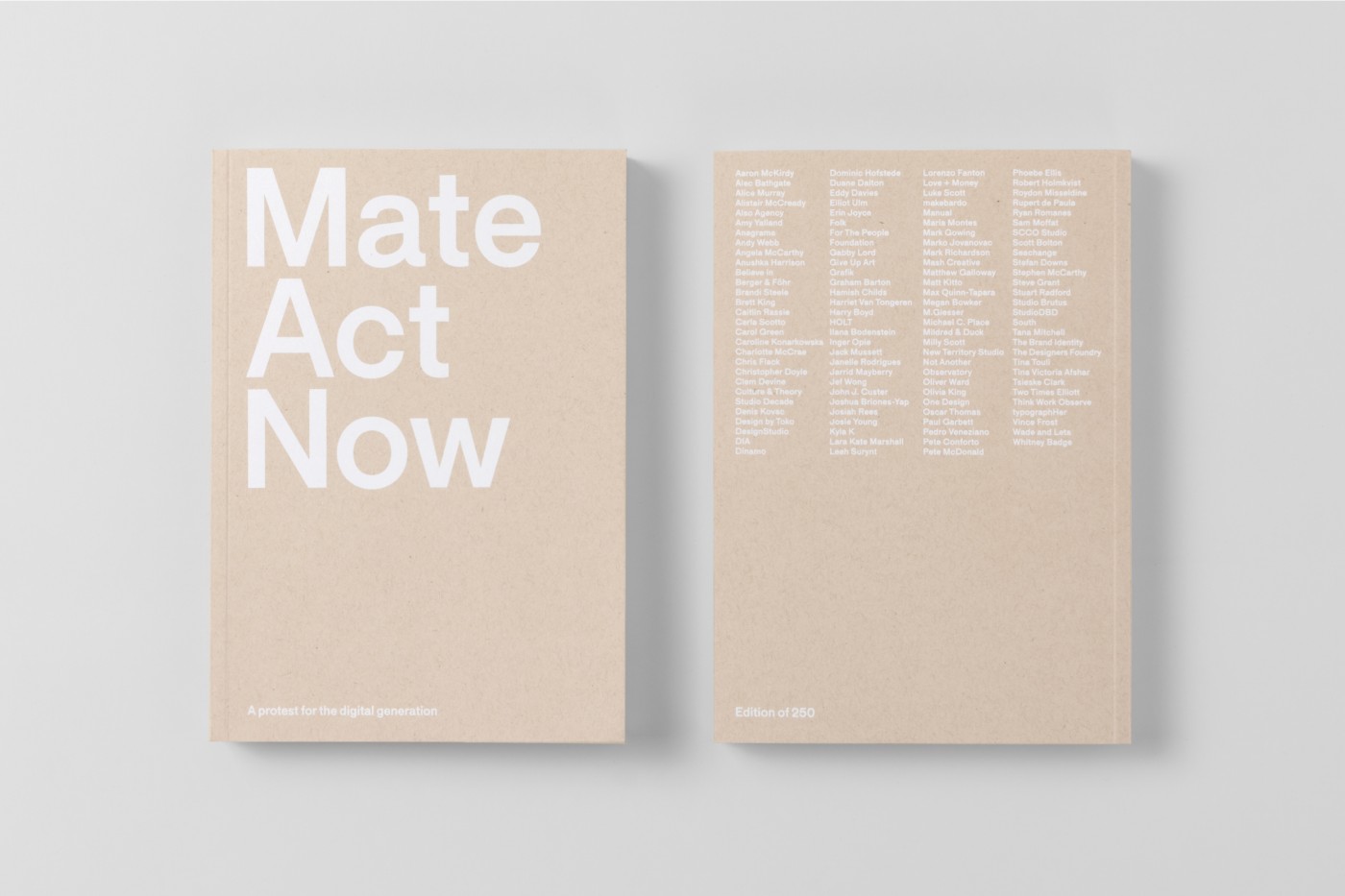 Mate Act Now's online protest is all over climate change.
Have you ever thought of activism in the digital realm? Mate Act Now showcases a set of 250 digital posters, all urging the need to act on our climate, now. Prompted by the 2019 Australian bushfires and the emergence of the pandemic there have been responses from over 200 leading designers worldwide, who united in protest for the future of our planet.
"We know that a poster in itself can't affect change. It is people's actions that will make a difference. So if the world's reaction to COVID-19 dispels any doubt we have about our ability to act when needed, the question now is: do we have the willpower to act against this?" – Mate Act Now
The set of 250 posters created by various designers are vivid, bold, cold, factual and heavy with expressive imagery about our climate crisis. The visuals point out our responsibility and duty to the planet, as well as towards impactful industries to reduce plastic and provide more plant-based foods. Despite the continuation of Covid-19, our climate remains at risk.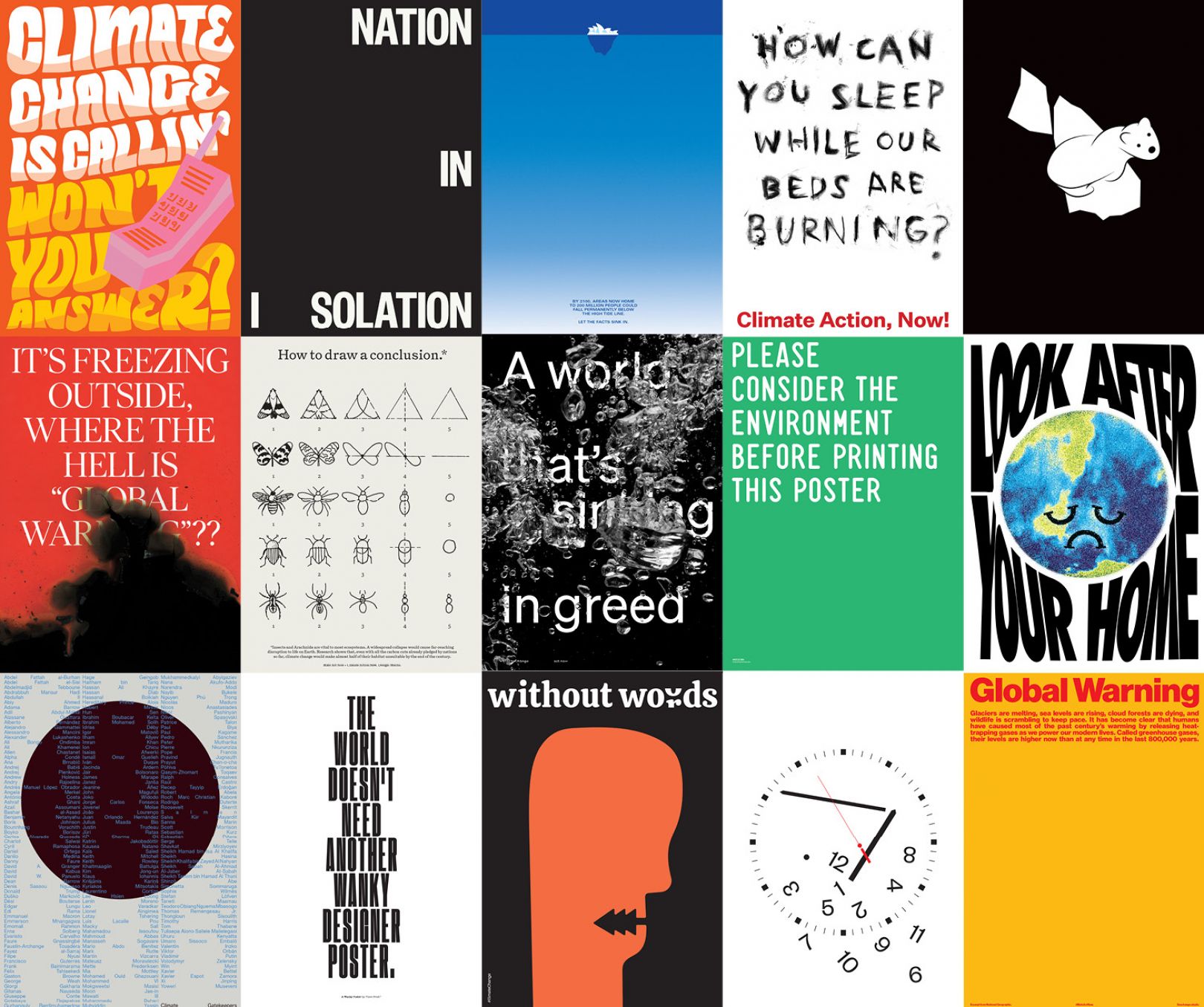 Having a disruptive practice is more than a rebellion. It's an evolving practice that shakes the system – empowering the makers and doers who step up to the cause. Ultimately, disruption through design encourages the optimistic change we crave to see in the world.
What examples of disruptive design have inspired you?
---
Interested in more design and sustainability-related content? See our collection of articles here.